Mission Viejo & Fullerton, CA
Friendly, Caring Pediatric Dentistry in Southern California
OC Smile, Offering Compassionate, Qualified, and Friendly Pediatric Dentistry
Pediatric dentists do an additional two to three years of specialized training after dental school to guarantee your child receives the best care. Children should have their first dental checkup by the time they turn one, according to the American Academy of Pediatric Dentistry. A personalized prevention program can be designed after your child has been evaluated. OC Smile aims to offer "dental health care" as opposed to "disease care" as a practice. Early detection could make the majority of dental issues easier to treat. The best form of treatment is prevention, and developing healthy dental habits early prevents problems from developing.
How To Treat Your Child's First Teeth
The first of your child's 20 baby teeth will start to erupt between the ages of six and nine months, though it can sometimes happen as early as three months or as late as twelve months. The two upper front teeth usually emerge after the two lower ones. The canines then erupt after the first molars (eyeteeth). Throughout this period, your baby may occasionally feel discomfort from teething. If so, there are steps you may take to assist your youngster feel more at ease.
After each feeding, gently wipe your baby's gums and newly erupted teeth with a gauze pad or damp washcloth dipped in water. Establish a daily brushing habit using a small, soft-bristled toothbrush and no more than a thin smear of fluoridated toothpaste starting at age 2, when there are more teeth in the mouth. Up to the age of six, your child may require your assistance with this significant duty.
Your Child's First Dental Appointment
Your child should visit a dentist by the time he or she turns one, according to the American Academy of Pediatric Dentistry. Despite the fact that it may seem too early, it is crucial to learn basic children dental hygiene practices, check for cavities, and keep an eye out for developmental issues.
Tooth decay in infants and young children can take many different forms. Early childhood caries (tooth decay) can advance quickly, changing a tooth's strong outer enamel layer into a weaker inner dentin layer in six months or less.
Most of all, it's important for your child to have a positive experience at the dental office as he/she will be a regular visitor for years to come.
Pediatric Dental Treatments
There are a variety of dental treatments offered to prevent tooth decay in children, or to save or repair teeth when necessary. They include:
Topical Fluoride — The tooth enamel becomes tougher and more decay-resistant when fluoride is incorporated into it. Although toothpastes and some water supplies include a tiny quantity of fluoride, a larger dosage can be properly applied to your child's teeth for maximum protection.
Dental Sealants — The "pits and fissures" on the chewing surfaces of back teeth can be sealed with a plastic covering at the dentist's office to avoid cavities. The bacterial agents that cause deterioration thrive in these tiny gaps. Because immature tooth enamel is more porous and less tooth decay resistant, dental sealants are simple to apply and offer many years of defense.
Root Canal Treatment — Maybe you've undergone a root canal yourself to rescue a tooth that was severely decaying or injured. Sometimes children may require root canals as well. Baby teeth serve as crucial guides for the permanent teeth that are already developing under your child's gums, as was previously described. Consequently, protecting them from early loss can aid in avoiding a malocclusion (from the Greek "mal" for bad and "occlusion" for bite) that calls for orthodontic treatment.
Bonding — Teeth-colored bonding materials can be used to fix front teeth that have chips or mild fractures, which are typical juvenile dental injuries. These realistic resins, which are made of plastic and glass and can be put on both baby teeth and permanent teeth, last until the child's facial development is complete.
Orthodontic Concerns For Your Kid
Most malocclusions become obvious by about age 7. Early orthodontic intervention can help guide the development of the jaw and/or teeth, preventing or making subsequent orthodontic intervention easier. Many orthodontic issues can be identified early, which is one of the reasons a qualified specialist should examine your child while he or she is still growing and developing.
Sports & Your Child's Teeth
A personalized mouthguard is a highly advised safety measure if your child participates in sports. An athlete is 60 times more likely to sustain tooth damage when not using one of these protection devices, according to the American Dental Association. A replica of your child's teeth is used to create a personalized mouthguard just for them. This will provide more security than a standard model. It's a wise investment because it will save future dental costs as well as pain and suffering!
Fullerton, CA Pediatric Dental Office – Top-Rated Dentists Near Me - Affordable Pediatric Dentist Serving Mission Viejo, CA
Sealants
Age One Dental Visit
Space Maintainers
Sleep Apnea & Behavior Problems in Children
Thumb Sucking
Fluoride & Your Child
Sealants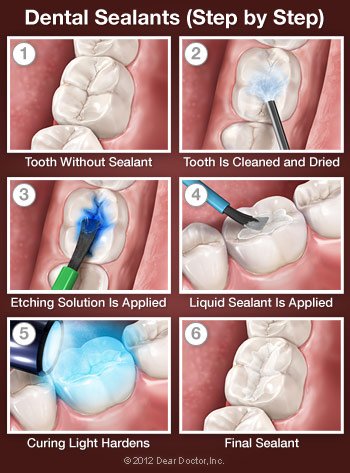 The chewing surfaces of your child's back teeth are the most likely place for a cavity to form in his or her mouth. If you run your tongue over this portion of your mouth, you'll notice why: These portions of your teeth are not as smooth as the rest of your teeth. Instead, they're lined with microscopic grooves known as "pits and fissures," which trap bacteria and food particles. A toothbrush's bristles can't always reach all the way into these dark, damp recesses. This generates ideal circumstances for tooth decay to flourish.
Furthermore, a child's newly erupted permanent teeth do not have the same level of decay resistance as adult teeth. As teeth age, the hard enamel coating that protects them changes to become stronger. Fluoride, which can be found in toothpaste and some drinking water — as well as dental treatments — can help to strengthen enamel, but it's difficult to get fluoride into those pits and fissures on a regular basis. Dental sealants, fortunately, are a viable answer to this issue.
Dental sealants are clear plastic resin coatings that smooth up the chewing surfaces of the back teeth and make them decay-resistant. A sealed tooth is significantly less likely to develop a cavity, necessitate more costly dental care in the future, or, most importantly, cause pain to your child.
How Dental Sealants Are Placed
You can think of a sealant as a mini plastic filling, though please reassure your child that it doesn't "count" as having a cavity filled. Because tooth enamel is devoid of nerves, applying a sealant is painless and does not necessitate the use of numbing agents. The tooth or teeth to be sealed are first examined, and any little decay discovered is carefully removed. After that, the tooth will be cleansed and dried. The surface is next treated with a solution that roughens or "etches" it somewhat, allowing the sealing substance to adhere better. After that, the tooth is cleaned and dried one more. The liquid sealant is then painted on the tooth and solidifies in about a minute, sometimes with the assistance of a special curing light. It's as simple as that!
Taking Care of Your Dental Sealants
Sealed teeth, like unsealed teeth, require the same level of dental hygiene. Your child should continue to brush and floss his or her teeth on a daily basis, as well as undergo professional cleanings on a regular basis. It's crucial to keep an eye on the sealants for signs of wear and tear, even though they should last for up to ten years. During this period, your child will receive a preventive therapy that has been shown to minimize decay by over 70%.
Age One Dental Visit
Space Maintainers
Sleep Apnea & Behavior Problems in Children
Thumb Sucking
Fluoride & Your Child
Meet Your Award-Winning Dentists in Mission Viejo & Fullerton, CA
The Proof is in our Patients
Very pleasant experience today. My normal dentist is closed on Fridays. I had an emergency visit today for my son. Lindsey was very helpful and made the overall experience pleasant. So thankful OC smile is open on Fridays and Saturdays. I will be returning to OC smile. I highly recommend this dentist. I am now considering them for Orthodontics. CC
This place is beyond professional, very caring and a very clean/nicely appointed offices. Took me right in since I was in excruciating pain and got me squared away very quickly. I highly recommend them, you will not be disappointed.
OC Smile went above and beyond with service, they made me feel very comfortable, I have never had such a great experience. I look forward to returning, my Dentist is Dr. Mike Hyneman he was great to talk to and he really knows what he is doing, I appreciate all the staff as well they made every go smooth and easy. My teeth were hurting and they got me in right away when another place said they had no immediate openings. Thank OC Smile for being so helpful with everything.
1950 Sunny Crest Dr., Ste #1100 | Fullerton, CA 92835
Wednesday
9:00 AM – 7:00 PM
Thursday
9:00 AM – 7:00 PM
Saturday
8:00 AM – 4:00 PM
Our Mission Viejo, CA Office
26137 La Paz Rd Ste 150, Mission Viejo, CA 92691
Wednesday
9:00 AM – 7:00 PM
Thursday
9:00 AM – 7:00 PM
Saturday
8:00 AM – 4:00 PM
The Ultimate Patient Experience