Cosmetic & General Dentistry in
Mission Viejo & Fullerton, CA
Top Cosmetic, Family & General Dentist in Southern CA
OC Smile Family & Cosmetic Dental Office in Mission Viejo, CA & Fullerton, CA
If it has to do with your teeth and oral health, OC Smile can be your go-to dental facility. We do thorough examinations, take any required x-rays, and identify issues early on as cosmetic, family, and general dentists. In addition, we offer oral hygiene advice and complete dental cleanings.
We can assess problems and offer suggestions on various procedures when it comes to enhancing the appearance of your teeth. Our techniques include dental bonding, veneers, enamel shaping, and crowns to enhance the symmetry and alignment of our patients' smiles. Gum shaping procedures can improve the appearance of a "gummy" smile, while other procedures can address receding gums. We also use whitening to make teeth that are yellow or discolored look better. We offer a wide range of in-house specialists for other speciality dental requirements, including orthodontics, implants, wisdom teeth extraction, pediatric dentistry, and much more, for smiles that need further reshaping.
When to Visit the Dentist
Many patients only visit the dentist when there is a problem. It is extremely unfortunate that they are skipping out on so many preventive services that might spare them future suffering and expense. Regular dental appointments are necessary to ensure that oral health issues, such as tooth decay and oral cancer, are identified and treated as soon as possible. Everyone should visit the dentist at least once a year, while some people may need to go more frequently to keep up with issues like plaque accumulation and gum disease than others.
A comprehensive oral exam to evaluate the condition of your teeth and gums, an oral cancer screening to identify any early warning signs, and a professional cleaning to get rid of lingering buildup and improve the appearance and feel of your teeth are all included in your routine dental visits. Don't let dentistry's many advantages pass you and your family by!
Mission Viejo, CA Dental Office – Top-Rated Cosmetic Dentists in Fullerton, CA
Smile Makeover
Fillings
Crowns & Bridgework
Inlays & Onlays
Cosmetic Tooth Bonding
Removable Dentures
Porcelain Veneers
Tooth Contouring & Reshaping
TMD
Snoring & Sleep Apnea
Tooth Decay Prevention
Smile Makeover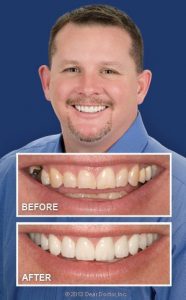 You'll feel terrific when you have a confident smile. A beautiful and confident smile is a valuable social and professional benefit and asset. Many people, on the other hand, avoid showing their teeth in public or in photographs because they dislike what they see. If this describes you, a smile makeover is a great place to start when it comes to having the smile you've always desired.
A smile makeover involves more than just addressing dental issues as they emerge. It's a thorough smile-rejuvenation strategy tailored to your specific facial characteristics and aesthetic preferences. Both in terms of how you look and how you feel, the results can be pretty astounding.These are the major steps involved:
Take a look around. The goal of the smile makeover is to give you the smile of your dreams. So take a close look at your grin and make a list of what you like and dislike about it. The following are some questions you can ask yourself:
Are your teeth as white as you'd like them to be?
Are any teeth chipped, cracked or worn?
Does your smile have a gummy appearance?
Do your teeth seem too large or small?
Do you like the alignment and spacing of your teeth
Are you self-conscious about crookedness or gaps?
Keep in mind that beauty is in the eye of the beholder… which is you! Some people desire their smile to be "perfect," which they define as having perfectly straight, evenly white teeth. Others want a more natural look and are unconcerned about little gaps or shade differences. There are a lot of choices to make, but don't worry – dentists are experts at guiding you through them.
Share your thoughts. The importance of communication in the smile makeover process cannot be overstated. It helps if you express what you want to modify in as much detail as possible during your initial makeover consultation. Bring images of smiles you like or of how you used to look when you were younger. Because dentists are trained to look at smiles in terms of facial balance, your makeover dentist will have some ideas to discuss with you. To put it another way, a dentist will consider not just how the components of a smile (teeth, lips, and gums) interact with one another, but also how they blend in with the rest of the face.
Make a plan. A comprehensive dental checkup is a crucial part of arranging a smile makeover. Cosmetic dentistry offers a wide range of lifelike dental restorations and treatments, but any issues in your mouth that could compromise a positive outcome must be addressed first. If your teeth are stained, for example, you must figure out why. Before whitening your teeth, you may have an underlying dental illness that needs to be treated; otherwise, the whitening may not persist. If you drink a lot of red wine or other staining beverages, porcelain veneers may be a better option than bleaching procedures.
Try it out. A smile makeover is an investment that will pay off in the long run. As a result, many of the operations are irreversible. So, if you're thinking about making any modifications, it's a good idea to try things out first before committing entirely. There are many ways to preview the results: computer imaging, 3-D models, and even placing temporary restorations on your teeth so you can see what the final results will look and feel like in your own mouth. This also enables the remodeling strategy to be fine-tuned.
A "trial smile" is a great way to eliminate unknowns in the makeover process. But when it's all done, there's still one thing you may not be prepared for: how great it feels to flash your new smile to the world!
Fillings
Crowns & Bridgework
Inlays & Onlays
Cosmetic Tooth Bonding
Removable Dentures
Porcelain Veneers
Tooth Contouring & Reshaping
TMD
Snoring & Sleep Apnea
Tooth Decay Prevention
Meet Your Award-Winning Dentists in Mission Viejo & Fullerton, CA
The Proof is in our Patients
Very pleasant experience today. My normal dentist is closed on Fridays. I had an emergency visit today for my son. Lindsey was very helpful and made the overall experience pleasant. So thankful OC smile is open on Fridays and Saturdays. I will be returning to OC smile. I highly recommend this dentist. I am now considering them for Orthodontics. CC
This place is beyond professional, very caring and a very clean/nicely appointed offices. Took me right in since I was in excruciating pain and got me squared away very quickly. I highly recommend them, you will not be disappointed.
OC Smile went above and beyond with service, they made me feel very comfortable, I have never had such a great experience. I look forward to returning, my Dentist is Dr. Mike Hyneman he was great to talk to and he really knows what he is doing, I appreciate all the staff as well they made every go smooth and easy. My teeth were hurting and they got me in right away when another place said they had no immediate openings. Thank OC Smile for being so helpful with everything.
1950 Sunny Crest Dr., Ste #1100 | Fullerton, CA 92835
Wednesday
9:00 AM – 7:00 PM
Thursday
9:00 AM – 7:00 PM
Saturday
8:00 AM – 4:00 PM
Our Mission Viejo, CA Office
26137 La Paz Rd Ste 150, Mission Viejo, CA 92691
Wednesday
9:00 AM – 7:00 PM
Thursday
9:00 AM – 7:00 PM
Saturday
8:00 AM – 4:00 PM
The Ultimate Patient Experience