Mission Viejo & Fullerton, CA
Endodontics & Root Therapy in Southern California
OC Smile, Protecting and Treating Roots and Dental Pulp
Root Canal Therapy in Mission Viejo
When a tooth's pulp becomes infected or inflamed, which can happen as a result of severe dental decay, a crack in the tooth, or some other type of trauma to the tooth, root canal therapy is required. Severe throbbing pain in the tooth or more widespread discomfort in the head and neck are signs of infection. Infections can harm the jaw and spread to other teeth if they are not treated right.
Root canals are outpatient procedures carried out under local anaesthetic in the offices of OC Smile Dental & Orthodontics. The decomposing pulp will be carefully removed, the region will be cleaned, and a special putty will be used to cover the cavity. In order to seal and protect the tooth, we frequently finish the treatment by placing a crown on it.
Microsurgery in Fullerton
When doing root canals, dental implants, and other operations, OC Smile Dental & Orthodontics makes use of contemporary microsurgery equipment that enables us to see great detail and work with precision. Microsurgery in medicine is essentially any type of surgery that needs a microscope, and dental operating microscopes of today are a significant improvement over previous technology. We can enlarge surgical areas up to 20 times the conventional views using fiber optic lighting. Dental operating microscopes are more adaptable and simpler for us to use than more conventional magnification tools, which can only magnify objects up to six times the size they normally do.
With the use of this technology, we can perform incisions on our patients with greater accuracy and restraint. Less bleeding, inflammation, and pain result from this. Treatment is completed more quickly, and the results are better. For the comfort of our patients, we welcome modern technologies at OC Smile.
The "Root" of the Problem
What could contaminate the pulp tissue and result in root canal issues? Untreated dental decay is one risk factor for infection since it might open the door for bacteria from the tooth's surface to penetrate deeply. The pulp of a tooth may get infected by germs through a crack or fracture.
Tooth or pulp may also be harmed by dental trauma, such as that caused by a sports injury, or it may be made vulnerable to infection. Many fillings or restorations on the same tooth or other extensive dental procedures might be problematic. Occasionally, even basic dental procedures like orthodontics can eventually result in root canal issues.
Endodontic Treatment in Mission Viejo & Fullerton, CA
Although the classic joke "I'd rather have a root canal" still makes people chuckle, root canal issues are no laughing matter. It's crucial to keep in mind that root canal therapy helps pain, not causes it. A conventional root canal is performed with local anesthetics, and the discomfort is comparable to getting a filling. Here is what to anticipate:
The first step will be to undergo anesthesia, which is typically a numbing shot. For many people, this marks the end of the worst. The pulp chamber and root canals are then accessible through a small hole that is created in the tooth's surface. Then, tiny tools are used to remove dead and dying tissue from inside the constrained channels, frequently with the help of a microscope. Then a safe, inert substance is used to plug these channels after they have been cleaned and sterilized. The tooth's hole is finally shut to stop contamination.
With the purpose of eliminating infection-causing factors and averting further issues, more endodontic procedures could be suggested. It might be required to have a restoration (such as a crown) put on the tooth after an endodontic operation in order to return it to full functionality and cosmetic appeal. The restored tooth should then last for many years with good care.
Root Therapy in Fullerton, CA – Best Root Canal Dentist Near Me - Endodontic Dentists Proudly Serving Mission Viejo & The Surrounding Areas
Root Canal Treatment
Root Canal Retreatment
Root Canal Surgery (Apicoectomy)
Cracked Teeth
Root Canal Treatment for Children
Root Canal Treatment FAQs
Combined Root Canal & Gum Problems
Root Canal Treatment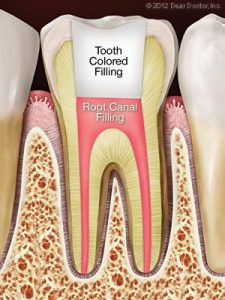 Root canal therapy, commonly known as endodontics ("endo" means within, "dont" means tooth), is a group of specialist operations used to treat issues with the delicate pulp (nerve) tissue inside the tooth. While some people wrongly believe it is a particularly painful process, it is usually no more painful than having a filling. It's actually one of the most efficient treatments for certain types of tooth pain.
When infection or inflammation develops in the pulp tissue of the tooth, a root canal operation is required. Pulp tissue is made up of blood vessels, connective tissue, and nerve cells, which is why a malfunction here can cause severe discomfort. The discomfort may fade away over time… at least briefly. The infection, on the other hand, will not go away without therapy. It can result in a dental abscess and possibly cause systemic issues in other sections of the body.
Root Canal Treatment Is Your Friend
"I'd rather have a root canal…" is a joke we've all heard. This remark about the operation being likened to something truly dreadful may be amusing, but putting off necessary endodontic treatment is no laughing matter. The notion that a root canal operation will always result in complications and pain is an old wives' tale. It's true that infection or inflammation in the pulp of the tooth can cause agonizing pain. However, you should keep in mind that a root canal just relieves the acute pain; it is not the cause of the discomfort.
Do you need another reason to get a root canal? Consider this: When a natural tooth is saved by root canal treatment and restoration, you can avoid the issues that often emerge when teeth must be extracted. These include tooth migration or shifting, which can cause chewing problems; the necessity for bridgework or dental implants, which can be expensive and time-consuming; and even the ultimate loss of bone structure in the location of the missing tooth.
Causes of Root Canal Problems
Infection and inflammation of the pulp tissue of the tooth cause root canal complications. Deep dental decay is one possible source of infection. Bacteria will gradually work their way down to the core of the tooth, where they may infect the pulp tissue if left untreated. Bacteria may also get into touch with the pulp through broken or damaged teeth. Bacteria can gain access to the tooth's pulp through any crack in the protective enamel coating.
Trauma to the tooth, such as those that are caused by a sports injury or an automobile accident, is another common cause of pulp tissue destruction. In this instance, it's critical to seek treatment right away, both to save the tooth and to avoid future complications.
In some circumstances, significant dental work might damage the pulp tissue, necessitating a root canal. This form of injury is more likely if you have many fillings or restorations on the same tooth. Root canal complications might occur as a result of common operations such dental crown preparation or orthodontics.
What to Expect During Root Canal Therapy
Don't panic if a checkup reveals that you require root canal therapy; it's one of the most common and effective operations in the dental armory, and it may often be completed in just one visit.
The root canal procedure usually begins in the same way that a filling does, with no more pain: an anesthetic is used to numb the tooth and surrounding area. For a lot of patients, the worst is already behind them.
The pulp chamber and root canals are then accessed through a small incision in the damaged tooth's surface. To remove the dead and dying pulp tissue from inside these narrow pathways, tiny devices are employed, sometimes with the help of a microscope. The chamber and empty canals are then cleansed, disinfected, and readied for the inert, biocompatible substance to be filled. Finally, sticky cement is utilized to close the tooth's opening, preventing infection in the future.
Following root canal treatment, your tooth may feel some sensitivity or tenderness for a few days. Ibuprofen and other over-the-counter pain medicines are usually beneficial, although prescription medications may be prescribed if necessary. It may be beneficial to avoid biting hard on the impacted tooth during this time. All of these symptoms, on the other hand, should only last a short time.
A crown or other treatment is frequently required to further safeguard the tooth and restore it to full functionality. Restorations come in a variety of shapes and sizes, ranging from standard gold crowns to high-tech dental replicas made of tooth-colored material. In any case, you'll have made a long-term investment in maintaining your dental health.
Signs and Symptoms of Root Canal Problems
How can you tell whether you require a root canal? It's sometimes painfully evident. If you are experiencing frequent and severe pain and pressure in your mouth, as well as visible swelling and high sensitivity in your gums, it is apparent that you require immediate evaluation and treatment. Sharp pain when biting down on food is another unmistakable sign of pulp tissue injury. Pain that persists after eating hot or cold foods is also a sign of trouble. If you observe any of these symptoms, you should seek medical attention right once.
Root Canal Retreatment
Root Canal Surgery (Apicoectomy)
Cracked Teeth
Root Canal Treatment for Children
Root Canal Treatment FAQs
Combined Root Canal & Gum Problems
Meet Your Award-Winning Dentists in Mission Viejo & Fullerton, CA
The Proof is in our Patients
Very pleasant experience today. My normal dentist is closed on Fridays. I had an emergency visit today for my son. Lindsey was very helpful and made the overall experience pleasant. So thankful OC smile is open on Fridays and Saturdays. I will be returning to OC smile. I highly recommend this dentist. I am now considering them for Orthodontics. CC
This place is beyond professional, very caring and a very clean/nicely appointed offices. Took me right in since I was in excruciating pain and got me squared away very quickly. I highly recommend them, you will not be disappointed.
OC Smile went above and beyond with service, they made me feel very comfortable, I have never had such a great experience. I look forward to returning, my Dentist is Dr. Mike Hyneman he was great to talk to and he really knows what he is doing, I appreciate all the staff as well they made every go smooth and easy. My teeth were hurting and they got me in right away when another place said they had no immediate openings. Thank OC Smile for being so helpful with everything.
1950 Sunny Crest Dr., Ste #1100 | Fullerton, CA 92835
Wednesday
9:00 AM – 7:00 PM
Thursday
9:00 AM – 7:00 PM
Saturday
8:00 AM – 4:00 PM
Our Mission Viejo, CA Office
26137 La Paz Rd Ste 150, Mission Viejo, CA 92691
Wednesday
9:00 AM – 7:00 PM
Thursday
9:00 AM – 7:00 PM
Saturday
8:00 AM – 4:00 PM
The Ultimate Patient Experience